Appointment successful!
A dedicated customer service will contact you later
Shangtaoyun—Introduction to Custom Decoration
The customization function of the Shangtaoyun multi-user mall system is mainly to allow users to customize the layout of the store homepage on the computer side and the H5 side, and no longer use the default layout of the store homepage in a stereotyped manner.。

Experience Custom Renovation
Three Benefits of Custom Editing
Solve the problem of homogeneity

The custom decoration function can help enterprises solve the homogeneity phenomenon in the style interface of the e-commerce platform, and can better reflect the advantages of the mall while reducing the homogeneity.

Provide user experience

Enterprises can customize and decorate the interface style in line with the target users according to the aesthetics of the customer groups targeted by the mall, so as to improve user experience and conversion.

Brand display and building

Enterprises can use the custom editing function to add brand elements when designing the mall interface to display and promote the corporate brand and increase brand awareness.
Eighteen custom decoration components, a variety of decoration options
It contains as many as 18 components, such as pictures, texts, floors, products, window marketing, coupons, navigation bars, search boxes, videos, etc. There are many options for decoration, and the decoration effect is updated instantly and presented immediately.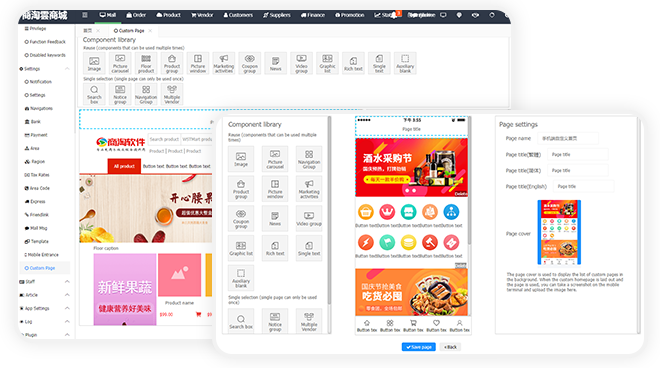 Support custom decoration of mall and store homepage
Support e-commerce system administrators to customize and decorate the homepage interface of the mall, and support all merchants to customize and edit the homepage of the store in the housekeeper background to create a unique style of the mall interface.
Click to experience now
Support computer and mobile phone custom editing
Supports custom editing of the homepage of the mall on different ports such as computer PC, mobile APP, and mobile WAP, fully satisfying users of different channels to obtain a good visual experience when entering the mall.
Click to experience now